How to make Patrode Recipe ಪತ್ರೊಡೆ
Step by step method to make the patrode with pictures. Dish from malenaaDu Patrode. It is made from colocasia leaves (taro, kesuve or arbi) stuffed with rice flour and flavorings such as spices, tamarind, and jaggery . ಮಲೆನಾಡು ಮತ್ತು ಕರಾವಳಿ ಪ್ರದೇಶದಲ್ಲಿ ಇರುವವರಿಗೆ, ಬೆಳೆದವರಿಗೆ ಪತ್ರೊಡೆ ಹೊಸದೇನು ಅಲ್ಲ. ಆರೋಗ್ಯಕರವಾದ ಈ ಖಾದ್ಯ ತಿನ್ನಲು ಬಲುರುಚಿ. ಉಪ್ಪು, ಹುಳಿ, ಖಾರ ಜೊತೆಗೆ ಕೆಸವಿನ ಎಲೆ ಅಲ್ಲದೆ ಆವಿಯಲ್ಲಿ ಬೇಯಿಸಿ ಒಗ್ಗರಣೆ ಹಾಕಿದರೆ ಆಯ್ತು ಈ ಪತ್ರೊಡೆಯ ತಯಾರಿ.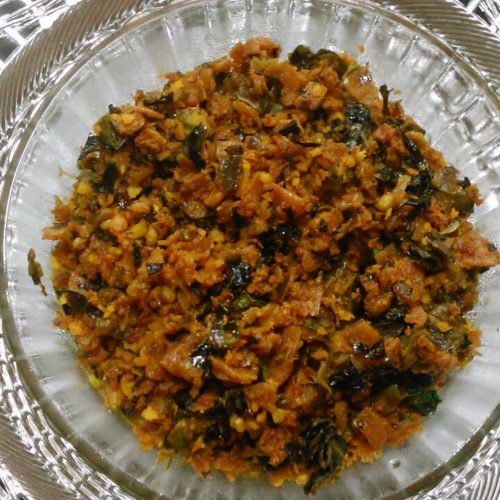 How to make Patrode Recipe ಪತ್ರೊಡೆ
Ingredients
20

ಕೆಸವಿನ ಎಲೆ

taro leaves

1/2

cup

ಅಕ್ಕಿ

rice

1/2

TBSP

ಉದ್ದಿನ ಬೇಳೆ

urad dal

1/2

TBSP

ಕಡಲೆ ಬೇಳೆ

chana dal

1/4

cup

ಕಾಯಿ

grated coconut

2

TBSP

ಬೆಲ್ಲ

powdered jaggery

1.5

TBSP

ಅಚ್ಚ ಖಾರದ ಪುಡಿ

red chilli powder

1

tsp

ಜೀರಿಗೆ

cumin seeds

1/2

TBSP

ಕೊತ್ತಂಬರಿ ಬೀಜ

coriander seeds
For Seasoning:
2 to 3

TBSP

ಎಣ್ಣೆ

oil

1/2

tsp

ಸಾಸಿವೆ

mustard seeds

1

tsp

ಕಡಲೆ ಬೇಳೆ

chanadal

1

tsp

ಉದ್ದಿನ ಬೇಳೆ

urad dal

1/4

tsp

ಅರಿಶಿಣ

turmeric powder

few

ಕರಿಬೇವು

curry leaves

2 to 3

tsp

ಕೊಬ್ಬರಿ ಎಣ್ಣೆ

coconut oil
Instructions
Clean the leaves and trim the stem as shown.

Soak rice and dals for minimum 2 hrs.

Grind the dals , cumin seeds, coriander seeds to a fine paste.

Add chilli powder, soaked tamarind to the above and grind it again.

Like this.

Transfer it to a bowl and the consistency should be like dosa batter or as shown.

Now place a big leaf on a flat surface upside down like this.

Spread thin layer ground masala on the leaf.

Now keep the second leaf on top of the first one.

Repeat the same procedure.

Now keep the 3rd leaf and follow the above step. You can layer 3 to 4 leaves.

Fold the bottom layer like this.

Fold the other side too.

Again spread masala on the folded leaf like this.

Now start rolling from the bottom as shown.

Like this.

Keep it aside. And follow the above steps to make the other rolls.

Once we are done with all leaves, keep the cooker with water in it or the idli maker on the stove.If you are using pressure cooker don't use the weight. Grease the plate where you are keeping the rolls.

Place all the rolls and steam cook these on medium heat for 30 to 40 minutes or until it is cooked.

Once it is cooked, to check prick a fork, it should come out clean.

Transfer it on to a plate and let it cool.

Then cut this into small pieces.

Like this.

Heat the oil in a pan on medium heat.Once it is hot enough add mustard seeds. Once the mustard seeds pops, add the dals. Fry it until it turns golden brown.

Now add the cut rolls along with turmeric powder and curry leaves. Fry this on medium heat for 6 to 8 minutes.

Finally add 3 tsp coconut oil and coconut, mix it and turn off the heat.

Patrode oggarane is ready to serve. Enjoy! ಪತ್ರೊಡೆ ಒಗ್ಗರಣೆಯನ್ನು ನೀವು snack ಇಲ್ಲವೆ ಬೆಳಗಿನ brakfast ಗೆ ಸವಿಯಿರಿ.
Notes
There are different varieties of taro leaves, one you may get pinching, or itching sensation. That is the reason we use more tamarind here. But some varieties don't.