Halasinakayi Palya | Tender Jackfruit Palya
Special Malnad side dish gujje Palya or halasinakayi palya. Halasina kayi / tender jackfruit palya is so delicious and healthy. If the fresh one is not available you can use frozen or canned tender jackfruit.
ಮಲೆನಾಡಿನ ಸವಿರುಚಿ॥ gujje palya or Tender jackfruit palya/ ಗುಜ್ಜೆ ಪಲ್ಯ/ ಹಲಸಿನಕಾಯಿ ಪಲ್ಯ ಬೇಸಿಗಿಯ ಒಂದು ಖಾದ್ಯ. ಸಣ್ಣ ಹಲಸನ್ನು ಬಳಸಿ ಮಾಡುವ ಈ ಪಲ್ಯ ಬಲು ರುಚಿ. ತಾಜಾ ಹಲಸಿನಕಾಯಿ ಸಿಗದಿದ್ದರೆ ನೀವು frozen ಇಲ್ಲವೆ canned ಹಲಸಿನಕಾಯಿಯನ್ನು ಬಳಸೂ ಮಾಡಬಹುದು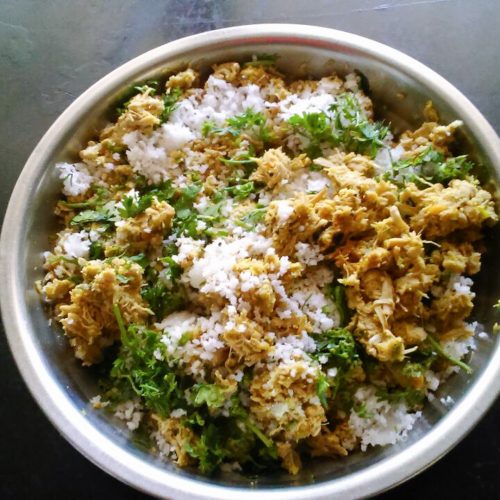 Halasinakayi Palya
Ingredients
1

small

tender jackfruit (ಹಲಸಿನಕಾಯಿ /ಗುಜ್ಜೆ)

please watch the video to cut the jackfruit

1/2

cup

water

1

TBSP

salt

1/4

tsp

turmeric powder

1

TBSP

jaggery

10 to 15

curry leaves
For seasoning:
5 to 6

TBSP

oil

1

small lime/lemon

1

tsp

chana dal

1

tsp

urad dal
For grinding:
1/2

tsp

mustard seeds

8 to 10

ಹಸಿಮೆಣಸಿನ ಕಾಯಿ

1/2

cup

grated fresh coconut

chopped coriander leaves/cilantro to garnish
Instructions
wash and cut the tender jack fruit! watch the video for " how to cut"

Cut into into cubes(around 3 to 4 cups)

Pressure cook this along with 1/2 cup water on medium heat( 2 whistles) ಹೆಚ್ಚಿದ ಹೋಳುಗಳನ್ನು ಕುಕ್ಕರಿನಲ್ಲಿ 1/2 ಕಪ್ ನೀರಿನೊಂದಿಗೆ ಮೀಡಿಯಮ್ ಉರಿಯಲ್ಲಿ 2 ಕೂಗು ಕೂಗಿಸಿದರೆ ಸಾಕು.

ಕುಕ್ಕರ್ ಕೂಗಿ ತಣ್ಣಗಾದಮೇಲೆ ಹೋಳುಗಳನ್ನು ತೆಗೆದು ಮಿಕ್ಸರ್ನಲ್ಲಿ ಇಲ್ಲವೆ ಕೈಯಲ್ಲಾದರೂ ಪುಡಿ ಮಾಡಬಹುದು.ತುಂಬಾ ನುಣ್ಣಗೆ ರುಬ್ಬಬೇಡಿ. Once the pressure is down, break the cooked jackfruit with hand or mixer.

Grind the masala and keep it ready.

Heat 6 tbsp oil in a pan, once hot add mustard seeds, once it pops add dals and fry it until it turns golden brown. Then add cooked jackfruit, turmeric powder,salt, and curry leaves. Mix it well. ಬಾಣಲೆಯಲ್ಲಿ 6 ಚಮಚ ಎಣ್ಣೆಯನ್ನು ಕಾಯಲು ಇಡಿ. ಎಣ್ಣೆ ಕಾದ್ಮೇಲೆ ಸಾಸಿವೆ ಹಾಕಿ, ಸಾಸಿವೆ ಚಟಗುಟ್ಟಿದ ಮೇಲೆ ಬೇಳೆಗಳನ್ನು ಹಾಕಿ ಅದು ಹೊಂಬಣ್ಣ ಬರುವವರೆಗೆ ಹುರಿಯಿರಿ. ಅದಕ್ಕೆ ಈಗ ಪುಡೀಮಾಡಿದ ಹಲಸಿನಕಾಯಿ,ಅರಿಶಿಣ,ಉಪ್ಪು, ಮತ್ತು ಕರಿಬೇವನ್ನು ಹಾಕಿ ಕಲಸಿ.

Then add the masala paste. 1 to 2 spoons of coconut oil. fry it for 4 to 5minutes. ಸ್ವಲ್ಪ ಸಮಯದ ನಂತರ ಇದಕ್ಕೆ ರುಬ್ಬಿದ ಮಸಾಲೆಯನ್ನು ಹಾಕಿ ಕಲಸಿ. ಇದಕ್ಕೆ ಒಂದೆರಡು ಚಮಚ ತೆಂಗಿನ ಎಣ್ಣೆ /ಕೊಬ್ಬರಿ ಎಣ್ಣೇ ಹಾಕಿ. ಕೊಬ್ಬರಿ ಎಣ್ಣೆ ಪಲ್ಯದ ರುಚಿಯನ್ನು ಹೆಚ್ಚಿಸುತ್ತದೆ. ಮತ್ತು ಈ ಪಲ್ಯವನ್ನು ಚೆನ್ನಾಗಿ ಹುರಿಯ ಬೇಕು.

Add jaggery, and lemon juice, mix it and turn off the heat. ಕೊನೆಯಲ್ಲಿ ಬೆಲ್ಲ ಹಾಕಿ, ನಿಂಬೆಹಣ್ಣು ರಸವನ್ನು ಹಿಂಡಿ ಚೆನ್ನಗಿ ಮಿಕ್ಸ್ ಮಾಡಿ. ನಂತರ ಉರಿಯಾರಿಸಿ.

Garnish with chopped coriander leaves and serve as side dish or snack or ಸ್ವಲ್ಪ ಆರಿದ ಮೇಲೆ ಪಲ್ಯವನ್ನು ಪಾತ್ರೆಗೆ ತೆಗೆದು ಮೇಲೆ ಕಾಯಿ ಮತ್ತು ಹೆಚ್ಚಿದ ಕೊತ್ತಂಬರಿ ಸೊಪ್ಪಿನೊಡನೆ ಅಲಂಕರಿಸಿ.

with hot steamed rice with a spoon of coconut oil! ಇದನ್ನು ಕೊಬ್ಬರಿ ಎಣ್ಣೆಯೊಂದಿಗೆ ಅನ್ನಕ್ಕೆ ಕಲಸಿಕೊಂಡು ತಿಂದರೆ ಬಹಳ ರುಚಿ. ಅಲ್ಲದೆ ಚಪಾತಿ, ರೊಟ್ಟಿ ಜೊತೆನೂ ಚೆನ್ನಾಗಿರತ್ತೆ.