Bendekayi Hasi kayirasa Recipe | ಬೆಂಡೆಕಾಯಿ ಹಸಿ ಕಾಯಿರಸ
Bendekayi kayirasa /  kayirasa recipe video.
Bendekayi  /okra/ladies finger are very low calorie vegetable with no saturated fats/cholesterol. Rich source of dietary fiber and vitamins. This is one of the vegetable recommended for weight loss. Also, consuming this okra benefits the pregnant women since it has folic acid which is useful in neutral tube formation in fetus. This delicious kayi rasa id very easy to make and super side dish for rotti, chapathi and rice.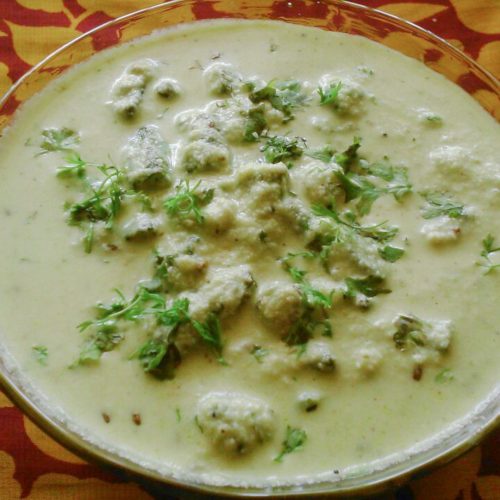 Bendekayi Hasi kayirasa Recipe
ಇಲ್ಲಿ ಹಸಿಕಾಯಿಯೊಂದಿಗೆ ಹುರಿದಬೆಂಡೆಕಾಯಿಯ ಗೊಜ್ಜು ಮಾಡುವ ಬಗೆಯನ್ನು ವಿವರಿಸಲಾಗಿದೆ.
Ingredients
1/4

kg

bendekai (OKRA/Ladies finger)

OR

2

TBSP

ಎಣ್ಣೆ

oil

1

cup

ಕಾಯಿ ತುರಿ

coconut

1/2

TBSP

ಉದ್ದಿನ ಬೇಳೆ

urad dal

1/2

TBSP

ಉಪ್ಪು

salt

1

ನಿಂಬೆಹಣ್ಣು

4

ಹಸಿಮೆಣಸಿನಕಾಯಿ

green chillies

1/4

tsp

ಅರಿಶಿಣ

turmeric powder
ಒಗ್ಗರಣೆಗೆ
1

tsp

ತುಪ್ಪ

ghee

1/2

tsp

ಜೀರಿಗೆ

cumin seeds

1/4

tsp

ಸಾಸಿವೆ

mustard seeds

few

ಕರಿಬೇವಿನ ಸೊಪ್ಪು

curry leaves

little

ಕೊತ್ತಂಬರಿ ಸೊಪ್ಪು

coriander leaves
Instructions
Wash and dry the bedekaayi/ladies finger thoroughly.

Cut into 1.5 inches long pieces.

Heat 2 TBSP oil in a thick bottom pan and add the the cut okra/bendekaayi along with curry leaves and turmeric powder.Mix it well. Fry it until it becomes tender. Turn off the heat and allow it to cool.

Meanwhile heat another pan dry roast the urad dal until it turns golden brown.

Now grind coconut, roasted dal,chillies and salt to a fairly smooth paste. Add little water to grind.

Add this paste to the cooked bendekaayi/okra. Mix it well, add water to get the kaayirasa to desired gojju consistency. Garnish with the chopped coriander leaves.
For seasoning : ಒಗ್ಗರಣೆ
Heat a teaspoon of ghee in a ladle. Once it is hot enough add mustard seeds. Once the mustard seeds pops, add cumin seeds. Turn off the heat and add this to the gojju.

Squeeze the lemon juice and mix it. Now this tasty, healthy bendekaayi kayirasa is ready to serve. Eat with rice, rotis.
Notes
Since we are using raw coconut gravy try to finish it in one meal. If not you can boil the kaayirasa and keep it and use it later.