Gowri Festival | Gowri baagina | How to prepare Morada jothe | Morada Baagina
Gowri habbada shubhashayagaLu. ಗೌರಿ ಹಬ್ಬಕ್ಕೆ ಮೊರದ ಬಾಗಿನ ಅಣಿ ಮಾಡುವ ವಿಧಾನ ಹಾಗು ಸಾಮಗ್ರಿಗಳು
gauri baagina, Gouri bagina
This article is about how to arrange the Morada bagina or Gowri baagina and foods to prepare on this day.
Things to follow:
1.  gejje vastra should be 16 hiDi and 16 eLe
2. you have to prepare minimum 2 baagina(marada jothe) or  you can make 5
3. if it is first gowri habba you are celebrating after the marriage is  prepare 16 marada jothe(baagina)
also for the first year put 2 unde( puri unde, kadlekayi unde..) and 2 obbattu and 2 chakli.

These are minimum menu items that is traditionally prepared on Gowri Festival
Checkout the complete menu list that is prepared for the Gowri festival at our Swayampaaka youtube channel.
For Arathi:
Morada Baagina
MORADA BAGINA GOWRI BAGINA VIDEO INSTRUCTIONS CLICK ON THIS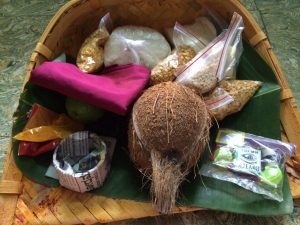 Mara/mora  – 2 quantities
4 different dhals/bele – Thogari bele (Thoor dhal), Kadle bele (Channa dhal), Hesaru bele (Moong dhal), uddina bele (Urad Dhal), each 1/2 cup
2 cups of Rice
1/2 cup Godhi (wheat grains) or Rava
1 acchu (Jaggery block)
Arishina (turmeric) and Kumkuma pair
1 kannu kappu or kappina dabbi(optional)
1 dozen bangles (usually 12, but 4 is also okay)
1 pair bichole
1 Karimani
1 kannadi (Mirror)
1 Baachanige (comb)
1 blouse piece
VilEledele and Adike (Betel leaves – 2, Betel Nut – 2)
1 Coconut
2 bannanas
Dakshine
In the evening of the gowri habba day or gowri and ganesha visarjane day-
worship gowri with arishina kumkuma, do the arathi and give Sobalakki  to Gowri.
Sobalakki Items:
Arishina kumkuma patna,
rice ( how much ever you want)
Arishinada kone 1 to 2
bellada achchu 1
blouse piece,
2 baLe bichchole( 1 pair)
1 coconut
viLedale adake – 2 and 2
2 banana