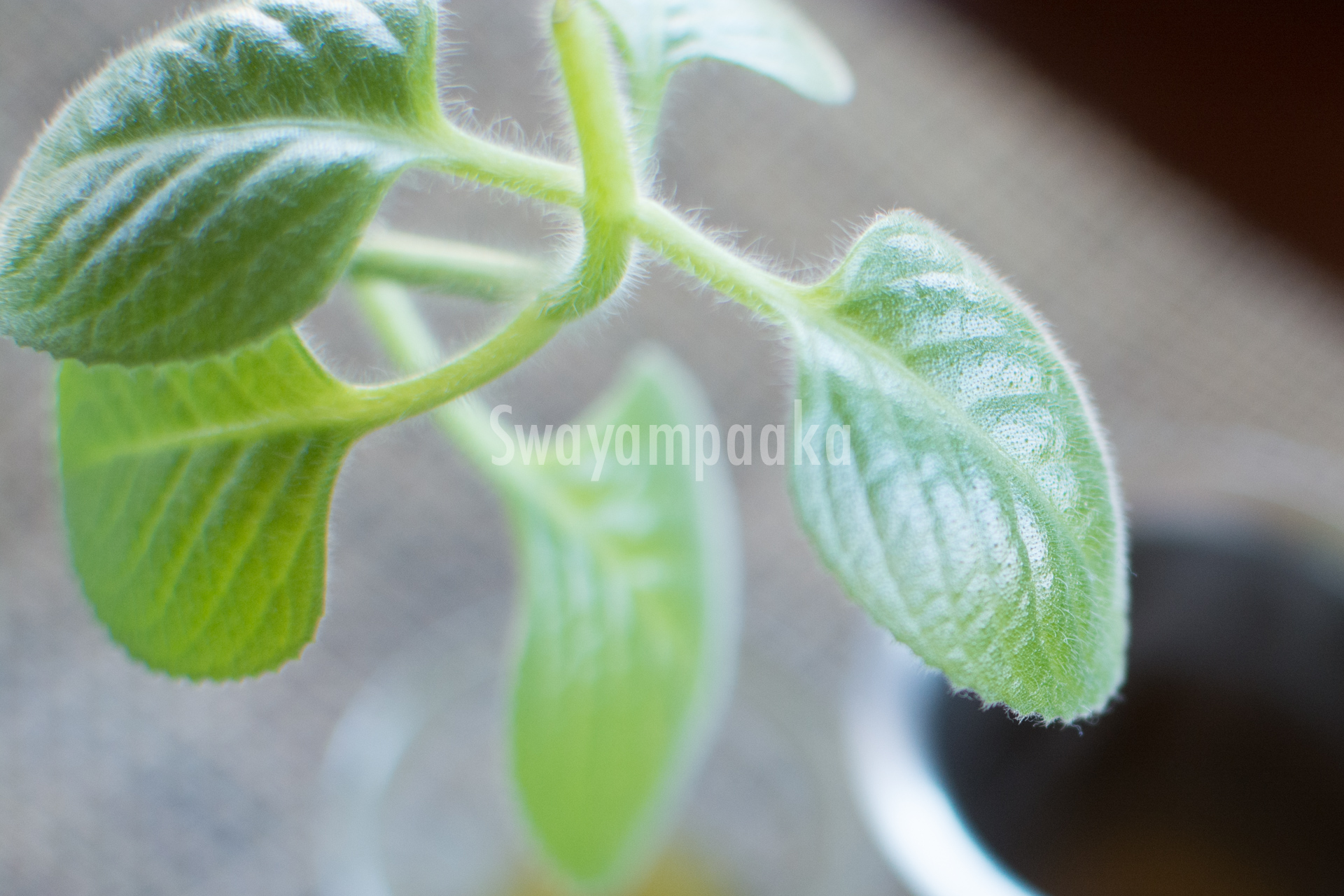 Health benefits of doddapatre | benefits of Indian borage | home remedies | recipes
Health benefits of doddapatre | benefits of Indian borage and  doddapatre / sambar balli – home remedies for cold and cough, pitta as well.

ದೊಡ್ಡಪತ್ರೆ ಎಲೆಯಿಂದ ಆಗುವ ಉಪಯೋಗಗಳು ಮತ್ತು ಮನೆ ಮದ್ದುಗಳು Doddapatre is a known indian medicinal plant with lots of health benefits. It is every household plant in india. parents, grandparents used this doddapatre leaves as medicine and as greens to prepare delicious recipes. This is also called Indian borage, mexican mint, country borage.

We can easily grow doddapatre in small pots. It grows well in full sunlight and also in partial shade as well. Doddapatre plants are usually propagated by stem cuttings and are a low maintenance plant. I suggest/ recommend everyone to have this plant at home.
Benefits of this plant are:
a good source of vitamins and minerals, including vitamin C, calcium, and iron.


It also contains antioxidants, such as rosmarinic acid, which has been shown to have anti-inflammatory properties and protect against chronic diseases, such as heart disease and cancer.


Vitamin A content helps in vision health
The herb may also have antimicrobial properties, which can help fight off harmful bacteria and viruses.


Cuban oregano has traditionally been used in herbal medicine to treat digestive issues, such as bloating and constipation.


Some studies suggest that Cuban oregano  have the neuroprotective properties, which may help prevent or slow the progression of certain neurological conditions, such as Alzheimer's disease.
Skin:
Doddapatre is known for its skin health benefits. It helps to reduce the allergies caused by imbalance of pitta vikruti. It is also very useful in balancing the pitta vikruti (imbalance) in our body.
Colds and Cough:
Traditionally doddapatre is used to treat colds and coughs. Also, Helps to reduce colds and cough due to seasonal allergies.
Headaches:
Leaves are used to treat headaches. Apply the juice to the forehead for this remedy.
Intestinal worms:
2 tbsp fresh juice of doddapatre / sambar balli  with hot water can be given to treat intestinal worms.


Skin allergies:
Squeeze the juice and apply it on the skin – It helps to reduce the redness, itchiness on the skin due to allergy or insect bites   Here are some of the names of Doddapatre in different languages:
Hindi: Ajwain Patta or Sambrani Patta
Kannada: Doddapatre, Karpooravalli or Oma Kalu Ele
Tamil: Karpooravalli or Omavalli
Telugu: Omavalli or Vamu Aku
Malayalam: Panikkoorkka or Karpooravalli
Marathi: Patta Ajwain or Doddapatre
Bengali: Patharchur or Pashanabheda
Gujarati: Sambrani or Ajma Na Parno
Ingredients:
For home remedy 1:
2 to 3 Doddapatre leaves
1 cup water
Method:
Boil 1 cup water along with 2 to 3 doddapatre leaves for 2 to 3 minutes, then strain the water, drink hot. 2 to 3 times a day. Relieves the cold and cough symptoms
Remedy 2:
Remedy for baby's 6 months and up
1 doddapatre leaf
Little honey
Method:
Squeeze the juice of a doddapatre leaf, add honey to it. Mix it and give .
for adults –
2 to 3 doddapatre leaves
1 to 2 black peppercorns
Honey to taste
Method:
eat 1 or 2 leaves with a black pepper and honey to taste.
NOTE:
Anything in moderation is healthy. That applies to this doddapatre as well. Eating too much everyday may have side effects. Always listen to your body and act upon it.
Recipes of doddapatre leaves / karpooravalli leaves :
  DODDAPATRE TAMBULI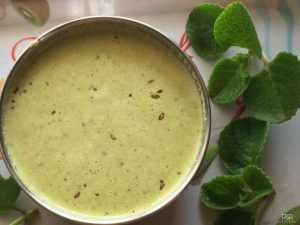 Doddapatre tambuli is yogurt / curd based recipes goes well with rice and as rayta Recipe –  Doddapatre tambuli    
DODDAPATRE RASAM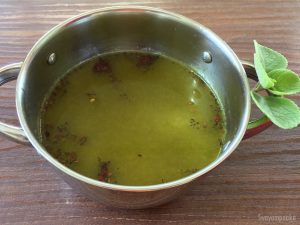 doddapatre saaru or rasam is another simple yet delicious recipe using doddapatre leaves. Doddapatre saaru/rasam is healthy and beneficial when you have a cold, cough, or body ache with fever . Activates the taste buds after having fever/cold. Recipe –  DODDAPATRE RASAM    
DODDAPATRE GOJJU: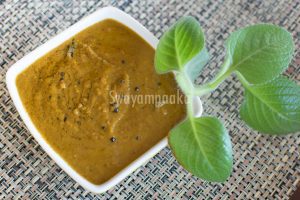 Doddapatre gojju is easy to make tasty gojju goes well with rice, rotti, chapathi and idli as well Recipe – DODDAPATRE GOJJU: 
  DODDAPATRE BONDA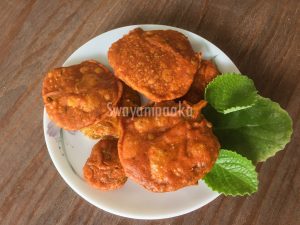 Very tasty snack to go with coffee or tea in the evening is this doddapatre bonda / bajji Recipe:  DODDAPATRE BONDA